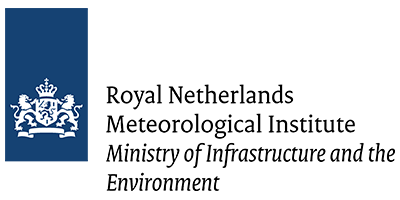 About the Organisation
KNMI is the Dutch national weather service and centre for climate research. The institute combines in house operational as well as strategic research tasks. As an integral part of the Ministry of Infrastructure and Environment KNMI provides on a day-to-day basis advice on weather and climate to national, regional and local authorities. KNMI is participating in many European projects on both climate and space research and keeps close ties with many of its stakeholders. The space research division has a long-standing experience and expertise with satellite missions observing atmospheric composition including GOME, SCIAMACHY, OMI and GOME-2. KNMI's satellite research division hosts both the OMI Principal Investigator (Prof.dr. P.F. Levelt) as well as the TROPOMI (launch 2015) Principal Investigator (Dr. P. Veefkind). KNMI participates in many SAF groups in cooperation with Eumetsat. KNMI is currently coordinating different EU projects, including QA4ECV. The climate research division is leading in climate and Earth-System modelling and part of the EC-Earth consortium and includes authors as well as lead authors contributing to IPCC 5AR and WMO ozone assessments. The division is responsible for the prognostic air quality forecasting system for the Netherlands based on the regional air quality model LOTOS-EUROS. In the context of the Copernicus Atmosphere Monitoring Service KNMI coordinates validation and reactive gases projects and contributes of C3S. KNMI is providing a variety of state-of-the-art climate services including tailored climate scenarios for the Netherlands using the in-house developed regional climate model RACMO. KNMI hosts the Cabauw Experimental Site for Atmospheric Research (CESAR), which is the national focal point for atmospheric research, satellite validation and climate monitoring. KNMI is also leading the ESA project GlobEmission, where satellite-derived emissions for air quality are generated. 
Role in CHE
Contribution to CO2 emission uncertainty reduction using more than 10-years of satellite-based NO2 observations for surface NOx emission estimates.
Application of the DECSO method for high-resolution emission estimates in combination with sector and country/region specific emission ratios of fossil emission sources.